Regular price
€159,99 EUR
Regular price
Sale price
€159,99 EUR
Unit price
per
Sale
Sold out
Airbrush T135 A

Airbrush T130 A

Airbrush T138 A

Professional Compressor AC-18

Support for 2 airbrushes

Cleaning kit
This complete kit will allow you to use the full potential of airbrush technology with an airbrush specialized in undercoats with quick paint change (T138), an airbrush for medium paint (T130A) and finally the last one for high precision work (T135A). All of them are powered by a professional compressor delivering up to 7 bars of pressure.
The airbrush air compressor kit includes :
Airbrush kit KKmoon, model T135A :

High performance, versatile and precise professional airbrush with dual-action, gravity-feed, high-performance airbrush with a 2cc cup for gravity-feed fluid and a 0.2mm needle and nozzle that allows you to spray from the hairline up to 1" wide patterns.

Airbrush KKmoon, model T130A :

Professional dual-action, multiple-use airbrush with a 7cc gravity-fed reservoir and a needle and 0.3mm nozzle that allows you to spray from the hairline to 1-1/2" wide patterns.
Airbrush kit model T138 :
Single-action airbrush set with an externally powered siphon, with a 0.8 mm tip, 2-3 oz. siphon bottles and a 1/8" air inlet (airbrush can be used with a compressor or with the included hose and adapter for a propellant can)
Air compressor KKmoon, model AC-18 :
Professional high performance single piston air compressor with air pressure regulator, gauge and water trap filter.
6 foot braided air hose with 1/8" fittings.
Airbrush holder mounted on a compressor which contains 2 airbrushes + mini cleaning brush 5 pieces: Perfect to clean the inside of the airbrush.
Airbrush instruction manual (How-To-Airbrush)
Specifications :
Color : Silver
Material: Aluminum + Copper
Power: 1/5 HP
Type of plug : EU
Voltage: 220-240V/50HZ / 110-120V/60HZ
Speed: 1450 / 1750RPM
Air flow rate per min/liter: 23L/MIN / 25L/MIN
Maximum pressure: 7 bars (100PSI)
Airbrush Operating Pressure: 1-3.5 Bars
Low noise: ≤ 50db
Equipment: pressure gauge, regular pressure, air filter
Automatic stop, start at 2.8 bar, stop at 4 bar (special pressure available)
Connections: with connection G 1/8" BSP
Power cable: Approx. 1.8m
Size of the main item (not installed): 24.5 * 13.5 * 17cm
Weight of the main item: 3540g
Package size: 41.5 * 16 * 31cm
Package weight: 5075g

Packing list :

1 * High efficiency air compressor
1 * External Mixing Feeding by single-action siphon 0.8 mm with two 22 cm3 bottles
1 * Precision airbrush with 0.3 mm double gravity action with a 7 cm3 gravity fluid cup
1 * Precision airbrush with 0.2 mm double gravity action with a 2 cm3 gravity fluid cup
1 * Support for 2 airbrushes mounted on the compressor
1 * Set of 5 cleaning brushes
1 * 6 feet braided air hose
1 * 6 feet black rubber hose
2 * Nozzle wrenches
1 * 22cc storage pot
1 * 22cc feed siphon
1 * Connector
1 * Gas tank pressure relief valve
2 * Air inlet connector
2 * Connector cap
3 * Eye drops
3 * Airbrush Storage Boxes
3 * Airbrush Instructions
1 * Compressor instructions
View full details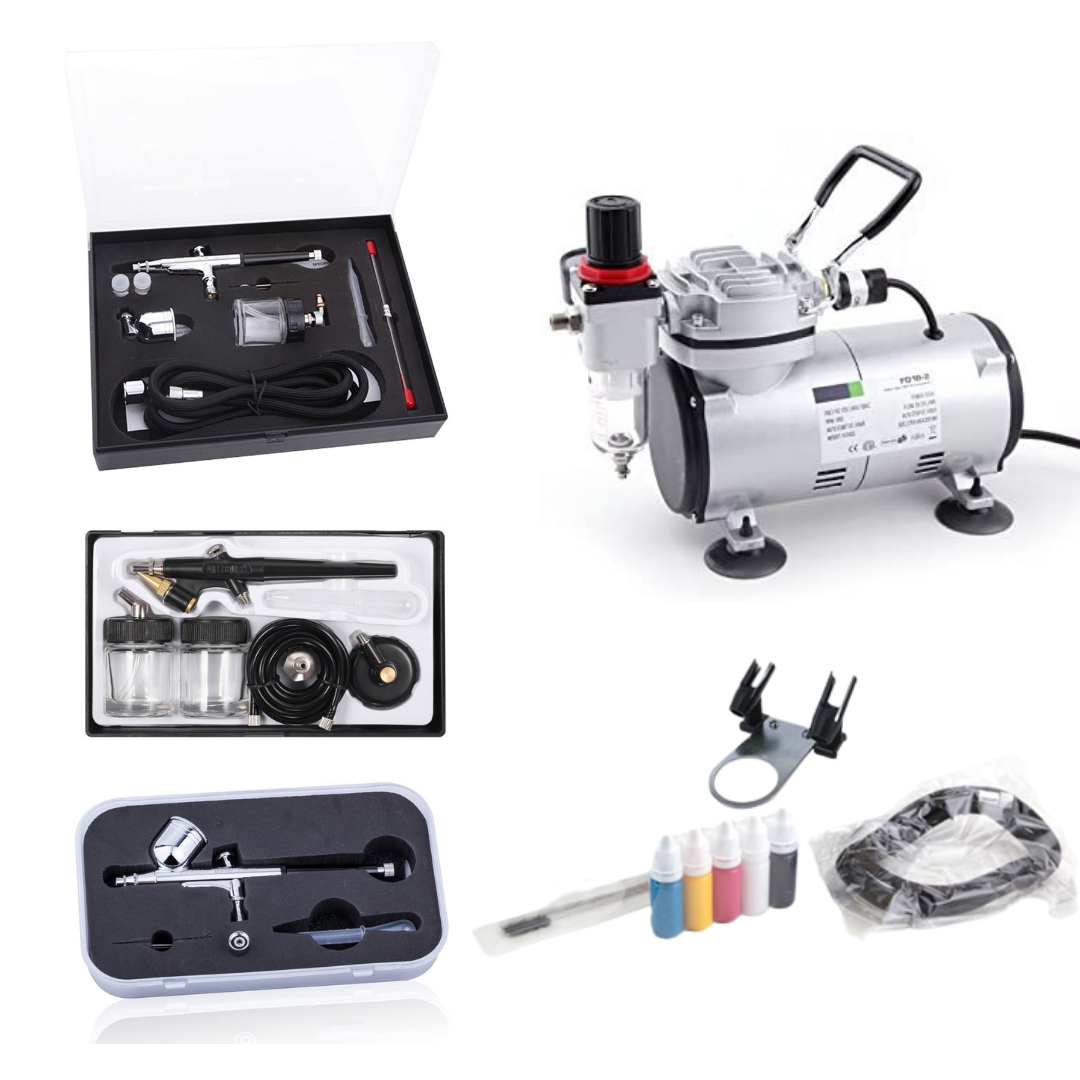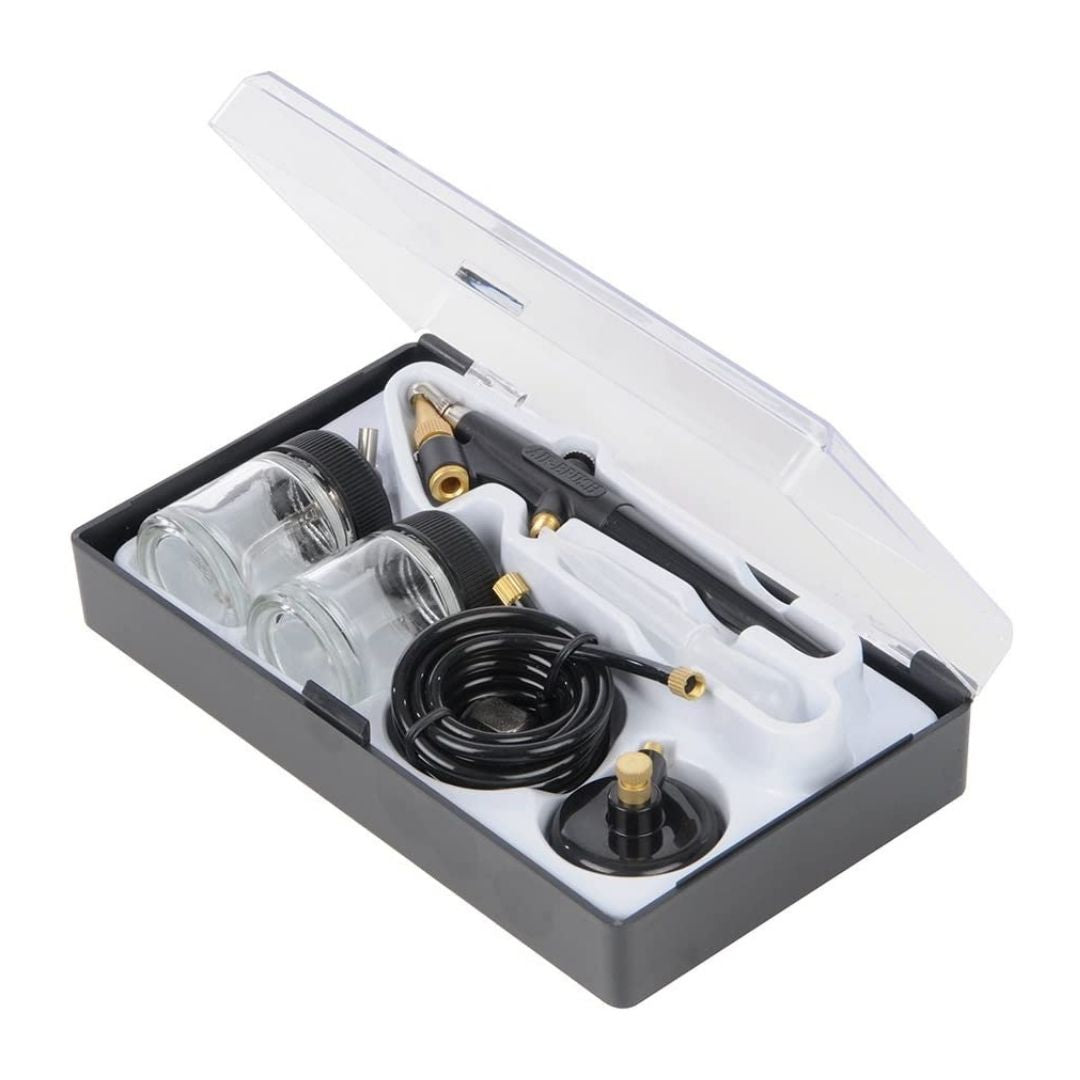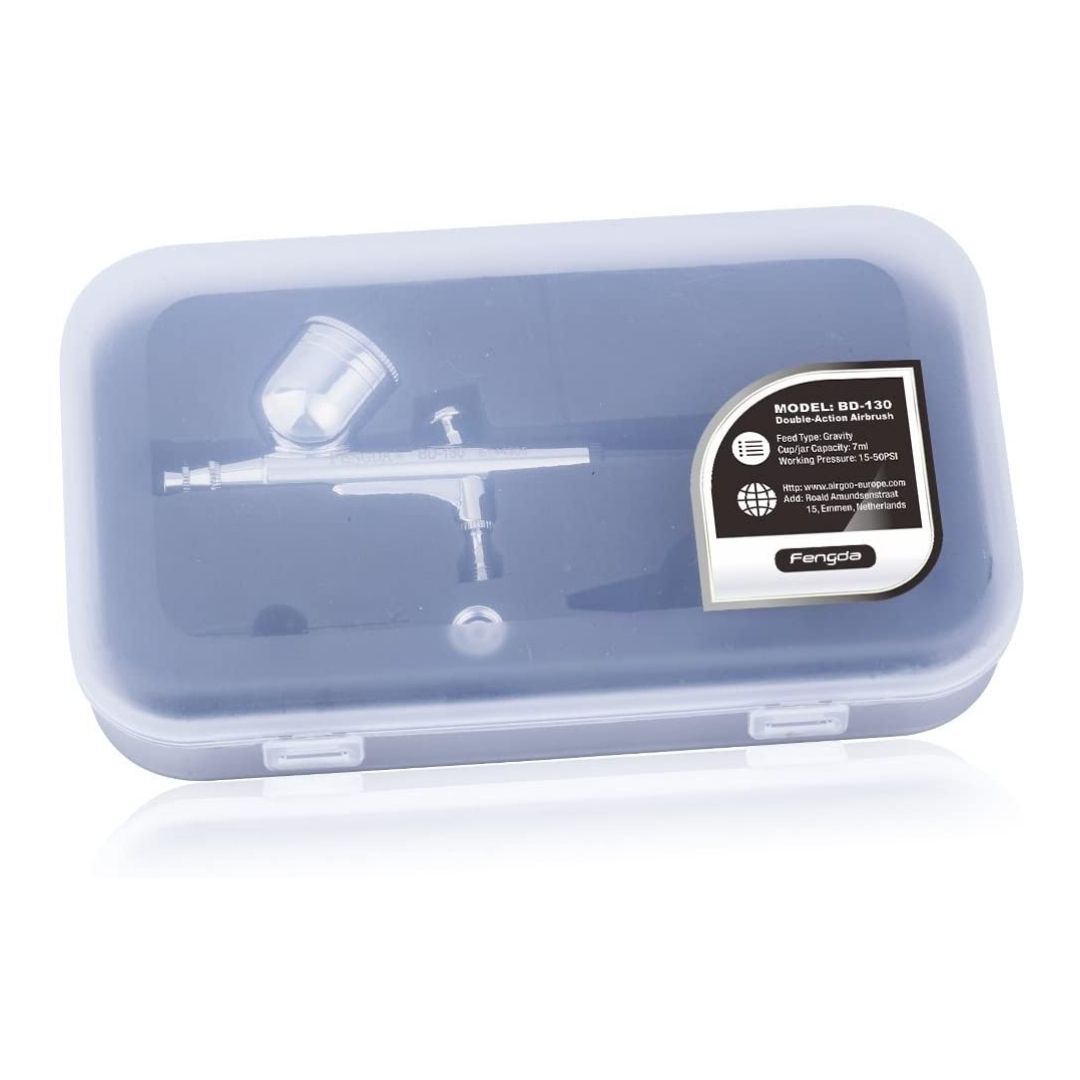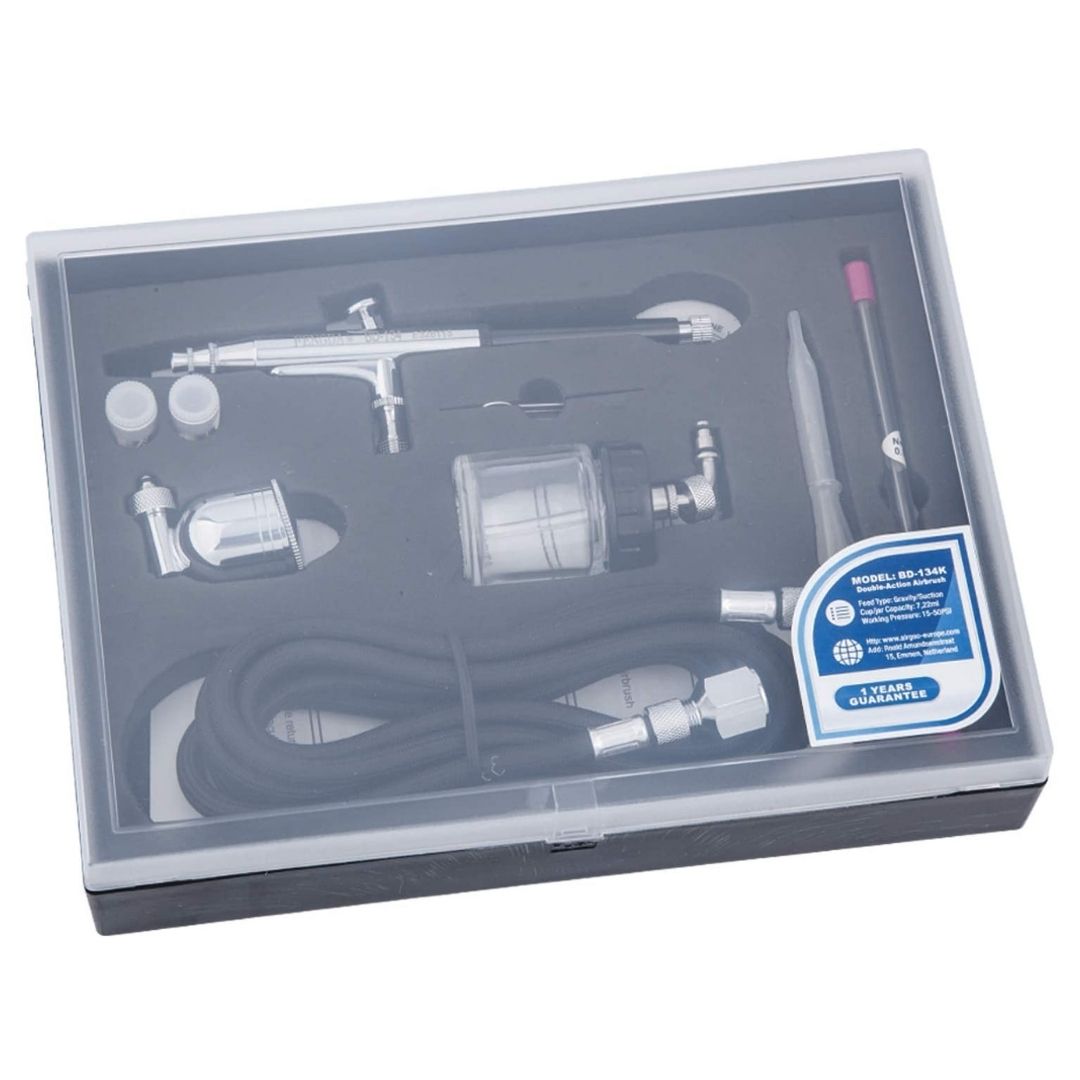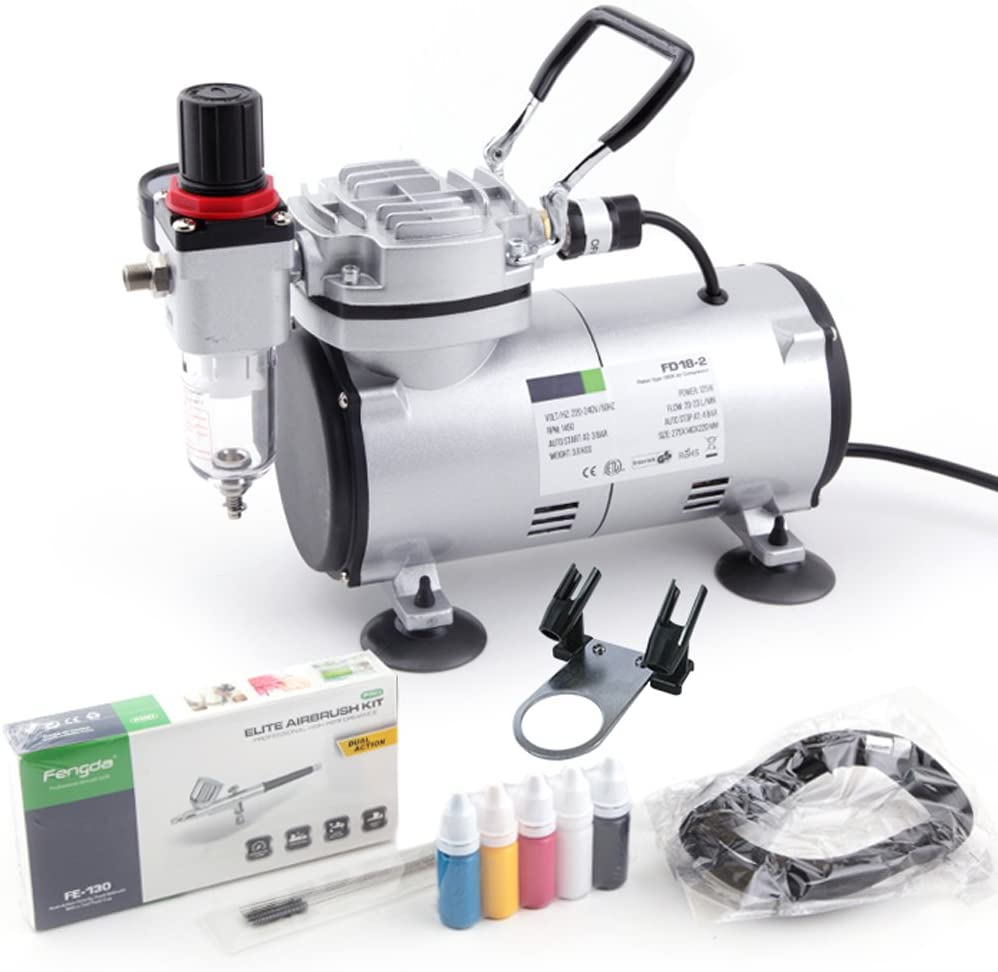 Package
Très complet livraison très rapide
Je conseille
Kit complet compresseur et 3 aérographes
le compresseur et les 2 aérographe (fe-130 et fe-134k ) fonctionne très bien l'aérographe 3 je n'ai pas pu l'utilise car les raccord ne corresponde pas je recommande ce matériel il fonctionne très bien
Satisfait de ma commande
Ma commande a été livrée rapidement, le matériel semble de qualité
Parfait comme sur le site
A première vue, ça a l'air très puissant, j'ai vérifié que tout fonctionne !